Crown Vic Repairs,
Maintenance,
and Modifications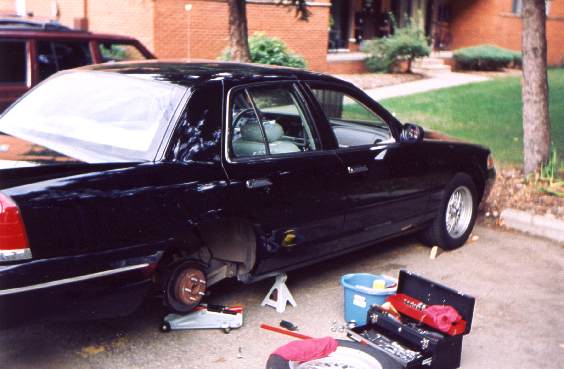 I drove this car off the dealer lot on December 20, 2002 at 65,xxxmi. I sold it on February 1, 2005 at 108,180mi. What happened in between was...

Repairs: (approximate total = $300)
Steering shaft lube - 94,xxxmi
Fuel pump wiring - 69,728mi

Maintenance: (approximate total = $756) (excludes oil changes)
Air & Fuel filters, MAF cleaning - 106,868mi
Transmission fluid & filter change - 100,320mi
Brake job - 95,xxxmi
PCV valve - 83,728mi
Air filter - 83,728mi
Coolant powerflush - 73,122mi
Bosch wipers - 71,xxxmi
Spark plug boots - 70,487mi
IAC valve - 70,487mi
Fuel filter - 69,728mi
Tripledge wiper blades - 66,2xxmi
Transmission fluid & filter change - 65,9xxmi
Goodyear Gatorback serpentine belt - 65,9xxmi
Oil change history

Modifications: (approximate total = $465)
04 P71 zip tube - 86,xxxmi
Edelbrock IAS shocks - 75,xxxmi
AWSF-12C spark plugs - 70,487mi
185° thermostat - 70,487mi
Dennis Reinhart chip - INSTALL
Marauder airbox w/ 80mm MAF

Coming soon:

Wishlist:
Limited slip differential
Yokohama or Dunlop tires
New intake (aluminum coolant crossover) (p/n F8AZ-9424-CA, fits 98-00)

Reference documents:
Gatorback Part Numbers
Power Chart
Speedo Gear Selection
Archive - stuff done to my old (wrecked) Vic
---

Air & Fuel filters, MAF cleaning - 5-Dec-04 - 106,868mi


Getting ready for winter, replaced air filter (FA-1745 for the Marauder airbox, ~$20) and cleaned MAF. Also changed fuel filter (FG-986B, $10) and cleaned the battery terminals with a wire brush and electrical cleaner.



---

Transmission fluid & filter change - 14-Aug-04 - 100,320mi
Finally got a chance to swap out my Mobil 1 trans fluid for some AMSOIL I ordered, including a Hastings trans filter. Followed these instructions and had the fluid changed in a couple hours.

---

Brake job - 5-Jun-04 - 95,xxxmi
Brakes were squeaking occasionally, so I used that as an excuse to spend over $500 on premium brake parts and install them myself.

---

Steering shaft lube - 13-May-04 - 94,xxxmi
Kept hearing a squeak/squeal when parking. It was quiet enough to be drowned out by the radio, but it bugged me nonetheless. So I just squirted some Drop-L-Do onto the steering shaft pass-through on the firewall. Problem solved! May be a temporary fix but it's free and quick so I don't mind. See pic.

---

04 P71 zip tube - 22-Dec-03 - 86,xxxmi
Picked up a 2004 P71 zip tube from fordpartsnetwork.com (4W7Z-9B659-AA) for ~$30. Installed it today, not expecting a huge increase in power but the straight(er) path of airflow should be of some benefit. Plus the zip tube doesn't lay on top of the valve cover like it used to.
Pics: Engine bay - front view - Engine bay - side view - Interferences - Close-up of brake line collision
16-Jun-04 follow-up: To prevent further chafing of the zip tube, I zip-tied a length of wire loom onto the brake line. Pic 1 Pic 2 Pic 3

---

PCV valve - 30-Oct-03 - 83,728mi


Got a genuine Motorcraft part (EV-98-B, ~$9) and installed it as preventive maintenance. FYI, the Fram and AC Delco valves you see in the parts store have a F-connector on the top--this does not fit the stock Crown Vic 4.6 plumbing. You may be able to remove the F-connector from the valve and then it will work. The Motorcraft part came boxed with an F-connector, for those applications where it is required to fit the engine's plumbing.



---

Air filter - 30-Oct-03 - 83,728mi


Stopped by the Lincoln-Mercury dealer and picked up a FA-1745 (Marauder) air filter to fit my Marauder airbox. $21 list price.



---

Edelbrock IAS shocks - May-03 - 75,xxxmi
Finally got a replacement shock from Edelbrock and installed these. Definite improvement, I dare say they are a better overall shock than Bilstein HD, and for the same price (~$70/shock). At least I didn't have to drill holes in my trunk to get them installed. :)

---

Coolant powerflush - 24-Apr-03 - 73,122mi


Something I have needed since I bought the car... the coolant was getting very brown. Took it to the dealership and for ~$95 and 1.5hrs they gave my car a powerflush. Could probably do it myself but I don't want to deal with the used coolant.



---

Bosch wipers - 12-Apr-03 - 71,xxxmi


Tripledge weren't doing a very good job... falling apart in fact. It always bugged me that my wipers were different styles, so I went ahead and bought the Bosch 22" Micro Edge wipers and installed them. So far they have been perfect.



---

AWSF-12C spark plugs and spark plug boots - 15-Mar-03 - 70,487mi
Another thing that should have been done along with the chip. Got the Motorcraft 12C plugs from Dennis Reinhart and changed all eight in about an hour. Also picked up some Standard SPP39 spark plug boots from the local auto parts store, $3.50 apiece and well worth it. See a pic of the old (cracked) factory boots.

---

185° thermostat - 15-Mar-03 - 70,487mi
Should have swapped this part in when I put in the chip (which was programmed for a colder t-stat). R&R was a snap, just make sure the engine is stone cold and that the degas bottle pressure has been relieved. Thermostat pic

---

IAC valve - 15-Mar-03 - 70,487mi
Had some rough idle/no idle conditions, removed IAC valve and cleaned it as best I could with WD40. Decided to replace the valve with a new (updated) unit. Motorcraft p/n CX-1866, Ford p/n F8VZ-9F715-BB. Can be had at fordpartsnetwork.com for ~$50 plus shipping.

---

Fuel pump wiring - 5-Mar-03 - 69,728mi


Exact same problem I had three weeks after I got my old Vic. There was some corroded fuel pump wiring in the driver's fenderwell that resulted in a crank-no-start condition. A tow to the stealership and 3hrs of labor put me back on the road.



---

Fuel filter - 5-Mar-03 - 69,728mi


Was going to install the new filter at a later date, but thought it may have been clogged because the car wouldn't start. Turns out it was fuel pump wiring (see above). Anyway the Motorcraft filter p/n is FG-986B. I used a $3 fuel line quick disconnect tool to remove the clips, this way the clips can be reused.



---

Dennis Reinhart chip and Marauder airbox - 5-Feb-03 - 68,xxxmi
I grabbed the MM airbox out of my wrecked car before it was sold, had Dennis reburn my old chip, and installed the whole package in about an hour. The engine is a little louder, and has a lot more pep. It has been approximated that on an NPI-headed car this package is worth 15-20hp. (to get this package new from DR would cost ~$450)

---

Tripledge wiper blades - 28-Dec-02 - 66,2xxmi


Got some Tripledge 22" wiper refills from Walmart ($6.88/pr) and installed them. Big improvement!



---

Transmission fluid change - 23-Dec-02 - 65,9xxmi
I couldn't get 14qts of AMSOIL ATF quick enough, so I settled for Mobil 1 Synthetic ATF ($5/qt). Also grabbed a new trans filter from the Ford dealership (~$30). Followed these instructions and had the fluid changed in a couple hours.

---

Goodyear Gatorback serpentine belt - 23-Dec-02 - 65,9xxmi
Picked up a 4060975 Gatorback belt from Murray's for about $21. Five minutes later, with the assistance of a 1/2" breaker bar (to twist the belt tensioner), the new belt was on and the belt squeal was gone.

---
WARNING!! Do NOT buy parts from these websites!! WARNING!!
---
Oil Change History
100,320 mi - 12,912 mi interval - 14-Aug-04 - Bought a UOA (Used Oil Analysis) kit through AMSOIL to test my oil at about 10,000 miles. Came back good, so I let the oil work another couple thousand miles before putting in fresh Amsoil 5W30 & a SDF-11 filter. See you in another seven months!!
87,408 mi - 8,907 mi interval - 1-Jan-04 - Fresh Amsoil 5W30 & SDF-11 filter put in.
78,501 mi - 8,014 mi interval - 6-Aug-03 - Fresh Amsoil 5W30 & SDF-11 filter put in. Old oil was dark caramel, pretty good for 8k miles. ;)
70,487 mi - 2,400 mi interval - 16-Mar-03 - First use of Amsoil 5W30 & Amsoil SDF-11 filter in this car. Changed early because it was a nice weekend. :)
68,1xx mi - 3,1xx mi interval - 8-Feb-03 - My first oil change on this car. I had not been prepared enough to have enough Amsoil 5W30 on hand, so I got a 5-qt jug of conventional Valvoline and a Motorcraft FL-820S filter and got it done. Next oil change should be Amsoil 5W30 & Amsoil SDF-11 filter.

---
rearwheeldriver@nospam.gmail.com
(remove nospam from the address)
Home
---
Pictures
---
Repairs & Mods
---
Improvements
---
FAQ
---
VIN Decoder
---
Door Sticker Decoder
---
Models & Options
---
Model Year Changes